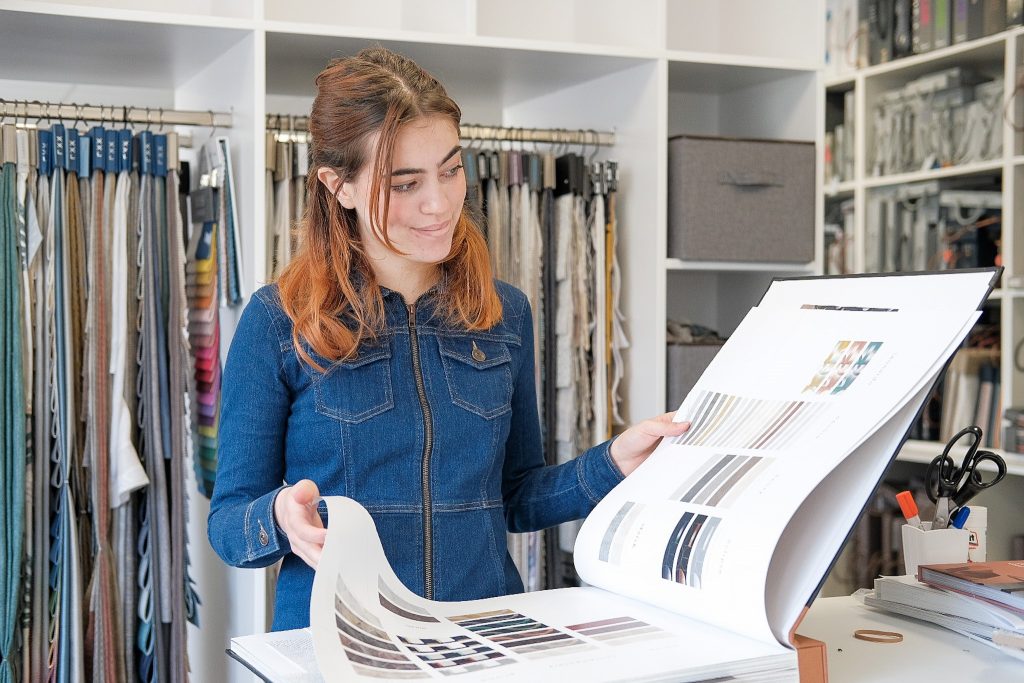 A fashion and textiles student who won a show home design competition has now completed a work placement at our Birmingham studio.
18-year-old Sylvie Cundy, from Burton in Staffordshire, entered the competition while completing her BTEC Level 3 at Burton & South Derbyshire College. Launched in partnership with housebuilder, St Modwen Homes, we invited entrants to design the interiors of one of the show homes at St Modwen's nearby Branston Leas development. Sylvie's designs, which followed a cohesive colour palette alongside a mix of sustainable materials, stood out and she was chosen as the winner of a week's work placement.
"I was really proud to win the competition as I'd done a lot of research and added plenty of detail to my mood boards," explains Sylvie. "It's been fantastic to have the opportunity of working in a real-life design studio and learning the different roles within the interiors industry."
Sylvie's placement involved shadowing designers, stylists, warehouse and logistics crew as well as an insight into business administration and one-to-one time with our directors.
Sylvie continues: "My first day was very much getting to know everyone and understanding their responsibilities but I also sat in on a show home briefing meeting. Following this, I was tasked with creating my own interpretation of the design, which I presented at the end of the week. I also joined the styling team on site at a development in Rugby which I really enjoyed as it's so creative. I'm joining the University of Manchester in September to do a BSc in Fashion Buying and Merchandising but I'm thankful to the Edward Thomas Interiors team as they've made me realise there are more career options I can consider."
Steve Hird, our director added: "We firmly believe work placements are essential to help the next generation not only gain an understanding of their chosen field but also experience the working environment first hand.
"Sylvie is a confident and capable student with some very imaginative ideas; she certainly has the potential to be a successful stylist or designer. It's been a pleasure to have Sylvie join us and we hope her week with the team has broadened her outlook on future careers. We all wish her every success with her degree."